Beach Fishing in The Gambia
Beach Fishing is fun in the sun 🙂
Beach fishing is a fun activity which can be enjoyed by all the family and Footsteps Eco-Lodge is only a few minutes from the sea .
Although The Gambia is a very small and narrow country - the smallest in Africa - it has 80 kilometres of Atlantic coastline and has always been a very popular fishing holiday destination, boasting a large variety of species caught from boat, beach and river.
Sea and river fishing is good all year round and the numerous sandy bays, shallow reefs and rocky outcrops provide the opportunity to try out different methods of fishing.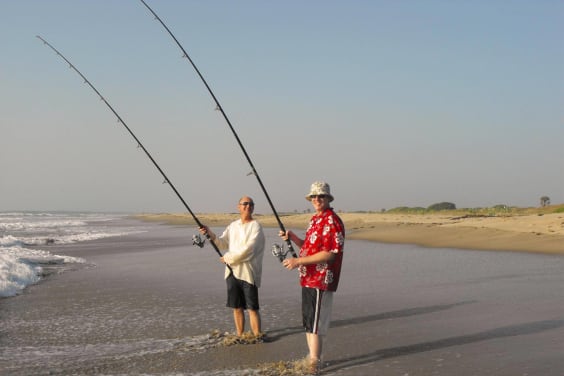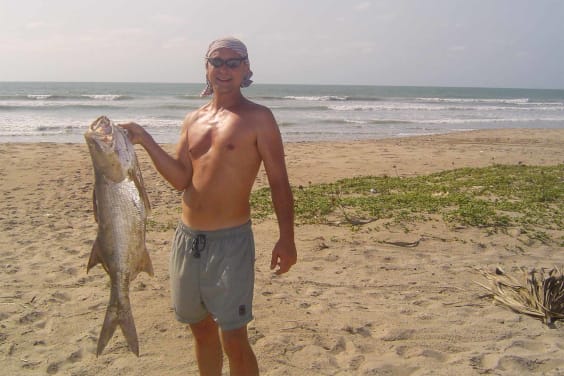 Guitarfish, Jack, Captain fish, Grouper, Rays, Snapper, Barracuda, Butterfish, Threadfin Salmon and Ladyfish are just some of the species to be found in the coastal waters of The Gambia.
If you are an angler who also enjoys the excitement of fishing abroad in countries which provide a cultural and colourful experience then you have come to the right place.
Our dog, Seven, will probably join in too; she loves hunting for crabs in the sand while keeping an eye on your progress.
After a relaxing, and hopefully productive, day at the beach, what better than to bring back your fish and let our chefs conjure up a special culinary delight for your evening meal? Don't forget the 'selfie' with your catch! And on the plate of course!
So why not join us for some beach fishing, it's only a few minutes down the track from our lodge?
Your 'guide': David
Location:
At the beach near Footsteps
Like a local:
Not available
Included:
Transport, rods, reels & bait, lunch and a drink.
Excluded:
Drinks and personal expenses.
Prepay:
Possible when booking your stay through our website, or by contacting David.
Your next steps to Footsteps...
Why not take 2 minutes to register your interest via our 'Dream now, Travel later' offer? There's no commitment to book and if you let us know a few details, we'll keep an eye on flights for you. We'll also give you the above excursion for free!