Maha Yoga
7 day retreat | November 4th - 11th 2019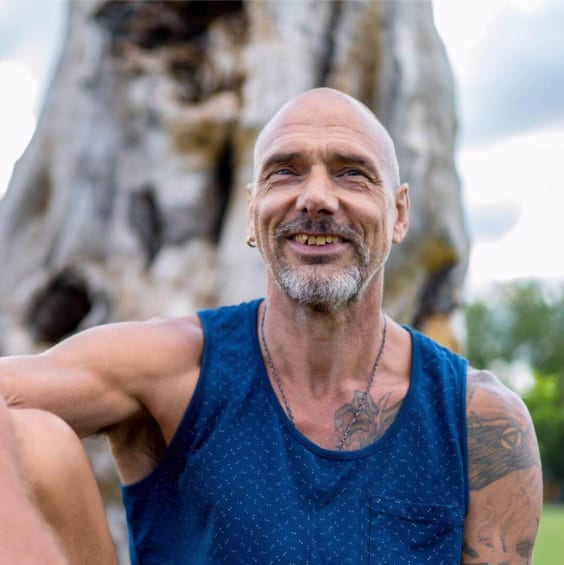 Join Yoga-Master Chris Gladwell to experience Maha Yoga in a beautiful eco-lodge, located within protected forests & 1 km from natural sandy beaches.
Maha Yoga is a classic approach of bringing together body-based practice, mantra, breathwork and meditation. It leads inexorably into states and traits of bliss, awareness and presence as the very nature of who you are. Maha Yogas roots can be found in old texts where it was taught as an accelerated practice for achieving the deep knowledge of yoga - the Yoga Vidya.
The Teacher
Yoga Master Christopher Gladwell is a renowned Yoga practitioner (physical and mental), whose career spans over 4 decades. He combines evolutionary biology, leading edge physical and physio therapeutic practices, psychotherapeutic disciplines, meditation from many traditions, breathwork, shamanic trance based practices and much more.
Chris studied with the Satyananda School of Yoga (12 years) and the Ashtanga Vinyasa system of Krishnamacharya and Sri K Pattabhi Jois (12 years), as well as other systems such as Iyengar yoga, Oki yoga, Vini yoga and Chi Kung. He has studied and explored traditional and new tantra, and for the last nine years has been involved in explorations of the Vajrayana teachings of Tibet.
Other explorations have been with Shamanic traditions mostly rooted in Native American teachings. He co-founded Bristol's Yogasara studio in the city centre and teaches internationally.
The Location
The Eco-lodge is a small Gambian accommodation situated in Gunjur, in the bush and by the beach, where you will find hundreds of birds and some of the most stunning scenery in The Gambia. Located one kilometre from golden sandy beaches and next to the protected Koofung Forest park in the south of Gambia and offering a variety of well-designed accommodations in relaxed and friendly surroundings.
Enjoy comfortable clean rooms, fine Gambian and European food and The Gambia's only fresh filtered pool, an added bonus if you are a photographer or birding enthusiast.
The lodge has a fully equipped and sheltered yoga shala for our dedicated use.
The Maha Yoga Practice
Daily practice in somatically-sound, fascially-intelligent body-based practice.
Daily practice of deep breathwork, mudra, bandha and pranayama
To learn and practice the elemental bija mantras and the mantras that support, direct and hold the energies of Maha Yoga.
Daily practice of embodied meditation.
Deep relaxation.
A background of practical Yoga-Tantra philosophy.
Opportunities for a one-to-one session with Christopher
Suggested Schedule
This not a yoga holiday, but a diving deep, embodiment invitation !!
6am-12 noon - Practice
Brunch 12pm-4pm - Free time & 1-2-1 appointments with Chris
4pm-7pm - Practice
Dinner
8:30pm-10pm - Practice
*Some days we will practice and study in the shala, others in the forest or on the beach. One afternoon we will visit the town and its fascinating markets and have dinner in a traditional Gambian restaurant.
Investment
Includes:
7 nights shared accommodation in beautiful roundhouses or lodges.
Single rooms available: supplement
2 nourishing vegetarian meals per day (Brunch & Dinner)
Snacks and drinks available & pick fruit from the trees!
Early bird rate of if paid in full by 16th August 2019
Flights
Flight time: 6 hours
Cost: - pp
No time difference
We recommend you fly with Thomas Cook - for cheap direct flights. Flights operate from Manchester, Birmingham and Gatwick to Banjul airport, The Gambia.
The retreat will start at 5pm on Monday 4th November and finish at 12 noon on Monday 11th November. This allows you to catch the Gatwick-Banjul flight on both those days.
Transfers can be arranged at an additional cost and the lodge is located around 50 minutes drive from Banjul airport.
Would you like to get away for a Yoga Holiday in the sun?
Are you a yoga teacher interested in running a holiday at Footsteps?